Today is the premiere for my Eleven Shadows album "The Seahorse in the Center of Your Mind", full of beautiful deep ambient music. You may listen to or download the entire thing! And of course, it also features otherworldly visual images and elements, although no night photography!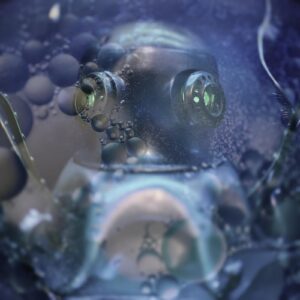 This is the first Eleven Shadows since probably about the year 1791, haha! I had eye surgery for a detached retina and was recovering. I wanted to listen to a ambient music featuring deep otherworldly bell-like sounds while convalescing or working on things while at home. To my surprise, I couldn't find any. I decided to create it. A week later, in an flurry of inspiration, I had twenty-one tunes that sounded quite beautiful. I began realizing that I could release this as Eleven Shadows music instead of one The Mercury Seven or one of my other musical projects.
The first song, Marismas Oscuras, also has a video!
Listen or download the entire Eleven Shadows album today on Bandcamp.
VISIT ME, VISIT ME!
BOOKS AND PRINTS:
Head on over to the Ken Lee Photography website to purchase books or look at night photography and long exposure prints and more. My books are available there and Amazon, Barnes and Noble, Target, Booktopia, Books A Million, IBS, and Aladin. If you enjoy the book, please leave a nice review, thanks!
NIGHTAXIANS VIDEO YOUTUBE PODCAST:
Night photographers Tim Little, Mike Cooper and I all use Pentax gear. We discuss this, gear, adventures, light painting, lenses, night photography, creativity, and more in this ongoing YouTube podcast. Subscribe and watch to the Nightaxians today!
SOCIAL MEDIA:
Ken Lee Photography Facebook Page (poke your head in, say hi, and "like" the page if you would, uh, like)
Instagram
PODCAST:
Behind the Shot video podcast – interview February 2020
VIDEO PRESENTATION:
How We Got the Shots: Five Photographers, Five Stories – Night Photo Summit 2022
VIDEO INTERVIEW:
Ken Lee's Abandoned Trains Planes and Automobiles with Tim Little of Cape Nights Photography
Conversation about night photography and my book with Lance Keimig of National Park At Night
ARTICLES:
A Photographer Captures Haunting Nighttime Images of Abandoned Buildings, Planes, and Cars in the American Southwest – Business Insider by Erin McDowell
A Photographer Explores Southern California's Desert Ruins – Los Angeles Magazine article by Chris Nichols